There are a million stories in the city.
Dum-dah-dum…dum-dah-de-dum-de-dum.
"The story you are about to hear is true; only the names have been changed to protect the innocent.")
The Flathead Beacon:
Police Blotter for the week ending 2-9-2010
A sampling of crime briefs from the Kalispell Police and Flathead County Sheriff's reports…by Heather Jurvis (
comments by Gladys
)
Tuesday 1/26/2010
4:21 p.m
. A resident of Happy Valley allegedly attempted to slide her vehicle into a neighbor's car. The issue is apparently part of a neighborhood feud.
Once again things aren't too happy in Happy Valley.
9:02 p.m.
After an ex-flame attempted to retrieve some of his belongings from her home, a woman on Meadow Court chased a man with a hatchet and struck him in the face with her hand.
She was just trying to bury the hatchet…in his head.
Monday 2/1/2010
12:44 a.m.
A local woman apparently does not like to receive phone calls from her ex-boyfriend.
He might want to check and make sure she doesn't have a hatchet.
10:25 a.m.
On Highway 2 West, someone evidently ripped down several no-trespassing signs and puked on the reporting party's property.
I'll show you NO TRESPASSING! I'll puke on your lawn! How do you like THAT TRESPASSING?
Tuesday 2/2/2010
10:33 a.m.
Graffiti appeared on the side of an Evergreen school.
It was the invisible Graffitist! They are all over L.A. I just want to know how they crawl up on the road signs hanging over the 405 freeway that has a bazillion cars rushing underneath to paint some strange hieroglyphic message about this being the Rabid Dog Gang Territory.
6:16 p.m.
A possible intoxicated driver turned out to be a very elderly driver.
It was Clara wasn't it?
Click here if you don't remember Clara
Wednesday 2/3/2010
5:08 a.m.
Someone evidently smashed the drive-through window at an Evergreen fast food eatery in the night.
Maybe they were desperate for a Big Mac.
10:15 a.m. A concerned citizen called to report that a dog was lying on the ground and foaming at the mouth near Sweetgrass Lane. This behavior is in fact quite normal for a Saint Bernard.
Here Cujo, come boy.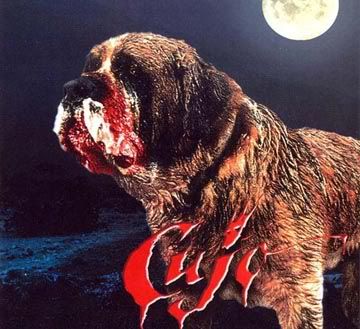 1:37 p.m.
A resident of Tamarack Ridge noticed that a vehicle was backed up to an absent neighbor's garage. The suspicious vehicle turned out to be from a cleaning crew running a vacuum in the home.
I wish someone would break into my house and clean it.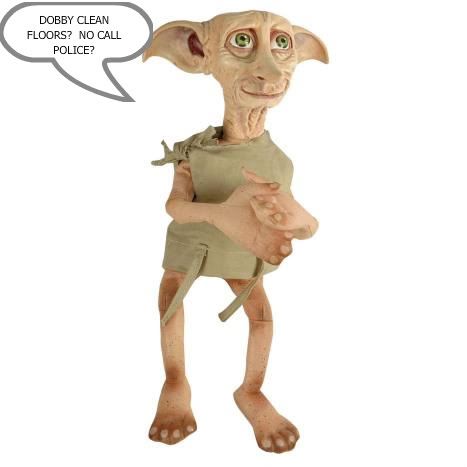 4:13 p.m.
A motorist called to report that a police vehicle did not use their turn signal in Evergreen.
That is someone inviting Bad Karma into their life.
Thursday 2/4/2010
.
9:16 p.m. A man at the Whitefish Amtrak station was allegedly threatening other passengers with his cane. The complaint was eventually cancelled, and train officials handled the conflict.
At least he didn't have a hatchet
11:58 p.m. Someone apparently walked into a Bigfork bar and said that a man was walking around outside with a sawed-off shotgun. Authorities located no such individual.
He got the joke wrong. It's supposed to be a man walked into a bar with a duck on his head.
1:08 a.m. Authorities helped sort out a complex domestic dispute involving a man, his ex-wife and his current girlfriend. According to the ex-wife, the girlfriend shot the man in the foot. Although he had not in fact been shot in the foot, he was treated for what appeared to be a gunshot wound on his shoulder. The girlfriend was taken to the hospital for pain related to an alleged strangling.
Ain't love grand? Nothing says Valentines Day like a shooting and a strangling.
Joe Friday Quote of the Week
Friday: Are you sure Mary Jenkins was alive when you left that apartment?
Wesson: I swear it, Sergeant! I stopped and looked; she was on the floor - she was trying to get loose. Clete really tied her up tight - she couldn't get away - poor girl - I really felt sorry for her.
Friday: Did Martin tell you he killed her?