There are a million stories in the city.
Dum-dah-dum…dum-dah-de-dum-de-dum.
"The story you are about to hear is true; only the names have been changed to protect the innocent."
The Flathead Beacon:
Police Blotter for the week ending 3-15-2010
A sampling of crime briefs from the Kalispell Police and Flathead County Sheriff's reports…by Heather Jurvis (comments by Gladys)
Tuesday 3/9/2010
5:49 a.m.
A patient at a local rehabilitation facility reports that their prescription medication went missing.
Sounds like Dr. Drew is at it again
.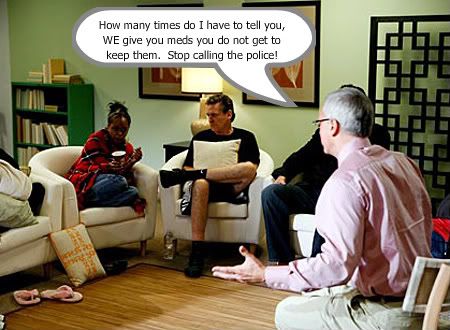 11:25 a.m. Apparently, an elderly couple neglected to pay for their meal at a local café. It is unknown whether this was an intentional act.
This is when dementia comes in handy.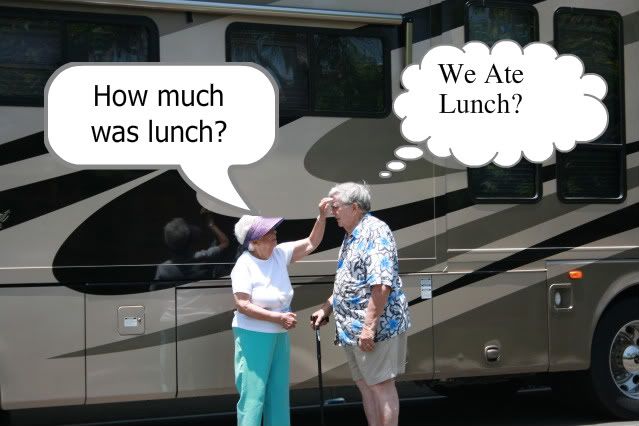 2:20 p.m. Someone called to report finding a puddle of blood near a condominium in Lakeside. Police confirmed that it was in fact a small puddle of blood but were unable to locate the source of the leak.
Am I the only person picturing a guy walking around with a cork stuck in a bullet hole?
Wednesday 3/10/2010
2:37 p.m.
A Columbia Falls man called for help in removing his wife's boyfriend from the home.
Now I wonder what that 9*1*1 call sounded like:
9-1-1
Caller: Yes, um, my wife's boyfriend is in my house and I can't get him out.
9-1-1 Operator – Have you called a pest control company?
Caller: Yes I called Smith and Wesson but figured I better call you before I used them.
7:37 p.m.
A possibly suicidal man on Highway 35 was not in fact suicidal. Authorities contacted him and found that he was on his way to dinner
Death by chocolate?
Thanks to thevinylvillage.com for the image.
Thursday 3/11/2010
4:54 p.m.
A local man reports that a woman tried to run him over while he was riding his bike on Antelope Trail. This was highly unusual, as the woman evidently has a restraining order against him.
Maybe he needs to reciprocate
.
5:15 p.m
. A Whitefish resident reports that someone entered their home and took their medicinal marijuana.
Sure isn't it all medicinal these days?
Friday 3/12/2010
6:39 p.m.
A concerned Bigfork resident called to report that a deer was sporting a clothesline or badminton net around its neck. The deer was gone when authorities arrived
Maybe it was trying to make a fashion statement.
Monday 3/15/2010
9:59 a.m
. A vehicle was reportedly stolen from a locked garage on Creekside Drive. It is unknown how this phenomenon occurred.
Maybe it was a Close Encounter of the Third Kind
12:05 p.m.
An antique stove was reportedly stolen from a porch on Burly Bear Trail.
Maybe it was beamed up too.
1:11 p.m
. Someone evidently stole elk antlers from a local lodge.
Wow sounds like an alien crime spree
2:22 p.m.
A Bigfork resident called to report that their dog had been stolen
Yep sounds like alien cat burglar or in this case a dog burglar.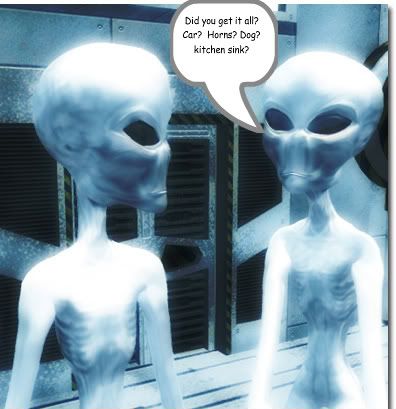 7:55 p.m.
Police helped remove an unwanted male subject from a Bigfork home. The man had previously been romantically involved with the reporting party's daughter.
Maybe he should make friends with the aliens.