Dum-dah-dum…dum-dah-de-dum-de-dum.

"The story you are about to hear is true; only the names have been changed to protect the innocent.")

The Flathead Beacon:

Police Blotter for the week ending 1-19-2010

A sampling of crime briefs from the Kalispell Police and Flathead County Sheriff's reports…by Heather Jurvis (comments by Gladys)

Tuesday 1/12/2010
10:38 a.m.
An injured Canada goose was spotted near a home on Trumble Creek Road. The fate of the
fowl is currently unknown.
I bet it was served with nice Chianti and some Fava Beans.
4:13 p.m.
Individuals on Terry Road were reportedly "smoking dope" and leaving their children unattended. The issue turned out to be an ongoing neighbor problem.
What was on ongoing neighbor problem? That they weren't sharing their dope?
6:00 p.m
. Someone on Harbin Hill Road received a letter from the Arizona Department of Public Safety regarding a traffic violation. The recipient has in fact never been to Arizona and will be contacting the appropriate officials.
It was this guy.
9:28 p.m.
A resident of Primrose Court called to report that a vehicle was driving wildly around in their yard. As it turns out, the driver was merely having troubles with icy road conditions.
Evidently they were from Southern California. A little rain, a little snow and it is pandemonium!
Wednesday 1/13/2010
5:25 p.m.
A concerned parent called to report that their 12-year-old son had been assaulted at school. The parent later called back, indicating that the child had actually been in a wrestling match.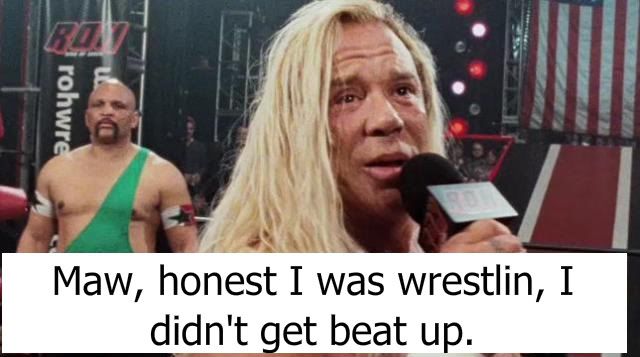 I know this is the era of everybody gets a trophy but come on it's a WRESTLING match. Someone has to lose.
1:55 a.m.
Someone on Conley Drive claims that his neighbors and their guests intentionally shone their vehicle lights through his window.
What they didn't tell you was their house sits at the T intersection. EVERYONE shines their lights into the house.
Thursday 1/14/2010
9:19 a.m.
A mule was seen standing near a white house on Foothill Road. The mule may or may not have belonged on the property.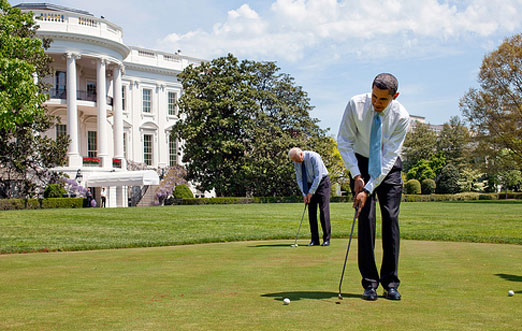 That's a donkey not a mule and it's going to be there for 3 more years.
10:24 a.m
. A stocky black-and-white pit bull ran free in Happy Valley. The dog seemed friendly but was covered in scars.
Why wouldn't it be friendly? It was in HAPPY Valley. Everyone is Happy there.
4:15 p.m.
An older man and four young children were seen sitting beneath a tree near Elk Park Road, then walking along the side of the road. Authorities could not locate the individuals.
I see dead people.
4:31 p.m.
Someone on Farm to Market Road detected what they believed to be a "drug-related" odor in the area. The responding officer determined the scent to be most likely garbage.
One man's trash is another man's …. Treasure?
7:08 p.m
. A resident of Bigfork reports that several kids came onto her front porch and left a robot near her door.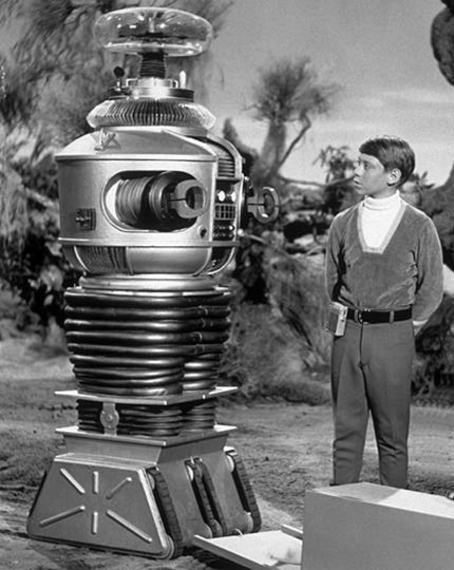 A ROBOT? Really? Was it saying DANGER WILL ROBINSON…?
Friday 1/15/2010
8:35 a.m.
An ungovernable juvenile male at a residence on Highway 2 didn't want to go to school.
Here is my advice. Go outside and get a bucket of snow then pour cold water over the snow swish it around several times over the child's head. When the child refuses to get up dump said bucket on obstinate child. Repeat until child agrees to get up and go to school.
3:47 p.m.
Several kids reportedly chucked snowballs at a vehicle on East Evergreen Drive.
Did anyone pull a gun? Well then it wasn't a real snowball fight.
4:13 p.m
. A vehicle in Somers was pelted with snowballs.
Sounds like a social experiment to me. Like those people riding naked on the train.
8:19 p.m.
Kids in Columbia Falls flung snowballs at a home on Jellison Road.
Yep…it was a combined effort I'm telling you.
12:34 a.m.
A cougar was spotted in a tree near Whitefish.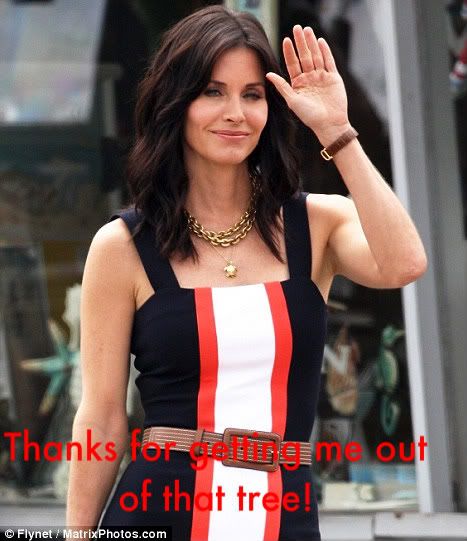 Now what was Courtney Cox doing in a tree?